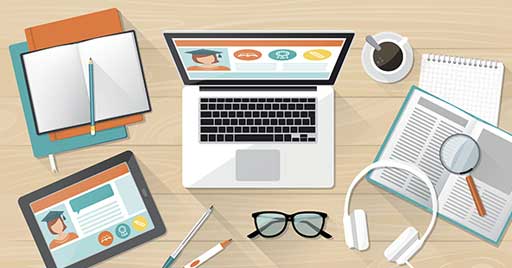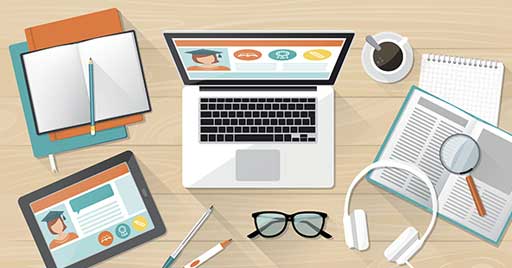 The e-Learning platform DynDevice LMS version 6.2 is almost ready.
DynDevice LMS versione 6.2 è ai nastri di partenza: quasi pronta la nuova reliease del learning management system prodotto da Mega Italia Media
The e-Learning platform DynDevice LMS version 6.2 is almost ready.
DynDevice LMS versione 6.2 è ai nastri di partenza: quasi pronta la nuova reliease del learning management system prodotto da Mega Italia Media
From today until September 29, the testing and roll-out procedure for the 6.2 major release of DynDevice LMS will take place on Mega Italia Media's cloud. The learning management system equipped with an e-Learning platform, SCORM™ editor (LCMS with advanced authoring tools), employee/HR management functionalities manage personnel/employee/HR, and highly customizable options through the CMS web extension (with e-Commerce sales and professional marketing features via e-Mail and other methods) benefits from new, significant updates.
The following release note presents all the improvements made by the new update.
DynDevice LMS: GENERAL CHANGES
More "platform administrators" names.
The possibility to specify multiple different contacts as "platform administrators" has been added, allowing for multiple users to be updated regarding the availability of new courses and general information for course resellers disseminated through
Cour
Store
™
.
Cour

Store

™ courses on www.dyndevice.com.
Courses distributed in all DynDevice LMS via
Cour
Store
™
are now published on the site
www.dyndevice.com
regarding the "public catalog". This facilitates the dissemination of news about them among administrators of the learning management system produced by Mega Italia Media, as well as installation and periodic updating.
Advanced filters in lists
. Improved the way of inserting filters for text-type columns in the "List" screens of
DynDevice LMS
: it is now possible to visually create even complex searches composed of multiple selections in AND and/or OR.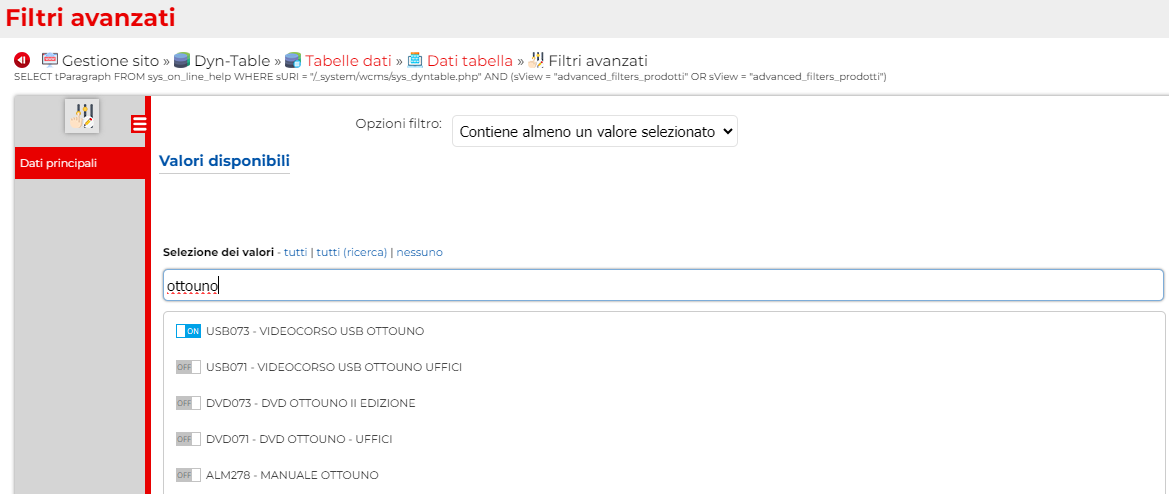 This new feature also allows for more targeted sending of e-Mail/DEM via the "Newsletter" module, more precise extractions of reports for e-Learning, and much more.
New management of "Welcome Messages"
. The functionality that allows displaying
welcome messages
to
DynDevice LMS
administrators has been improved. The main innovations are:
• possibility to establish the start and end date of a welcome message
• possibility to schedule multiple welcome messages
• possibility to preview the welcome message during insertion or modification
Login via SPID and CIE.
The login framework to e-Learning platforms via SPID and CIE has been updated, and other updates have been made to support new "Identity providers" added to the systems.
DynDevice LMS: MANAGE TRAINING AND DELIVER COURSES
Group administrators with delegation for extensions.
It is now possible to expand management and handling rights for "Group Administrators" and establish that they, in addition to managing (as before the modification) all users of the groups or subgroups they manage, can also extend all subscriptions already added to the courses they manage.
Download ZIP certificates with background tasks
. The "ZIP Certificates" functionality is now started in the background, and it is no longer necessary to wait for the complete generation of the archive without being able to use the system in the meantime. In fact, once the certificates to be downloaded are selected and clicked
[Download]
, a background process for generating what is requested will now be executed: while
DynDevice LMS
works autonomously, other operations can be performed. And as soon as the archive is ready, it will be available via notifications, and the download link will be displayed in the appropriate box at the top right.
Sender configuration for "E-Mail Alerts".
In the configuration of custom e-Mail alerts based on groups and courses, in addition to the subject and text, it is now possible to customize the sender with which the custom e-Mail alert is sent. In the same way the sender is chosen for newsletters and other alerts, in this case too, it will be possible to choose the sender from those authorized in the appropriate "Platform Options" section.
New feature "Automatic Registrations".
Added the possibility to create one-time or recurring processes of automatic registration to courses, possibly consequential to other events. And thus act on a set of learners (all, filtered by groups, subgroups, company name, or courses they are enrolled in) so that they are automatically enrolled in one or more courses when another course they are enrolled in is completed, the enrollment expires, the course starts, etc.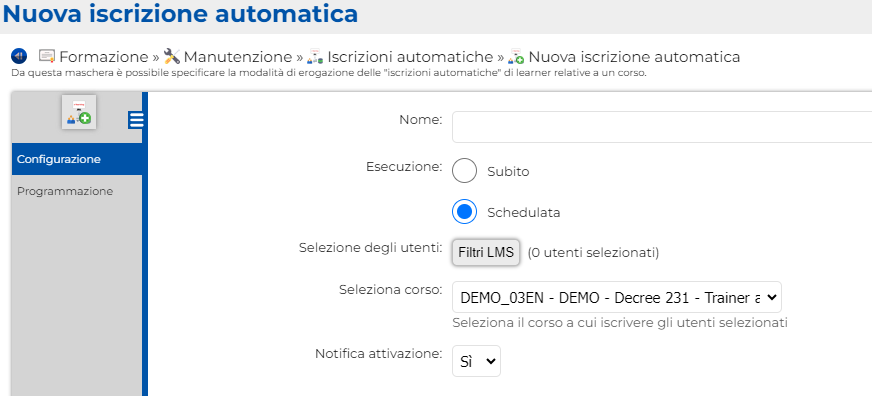 It is now possible to establish advanced and evolving training rules and paths immediately, depending on company needs or the capabilities of your learners.
Fields to filter groups in the "Enrolled" screen.
In the "Enrollment management" screen, "Group Selection" step, an internal search engine has been added to filter the displayed groups. The functionality is useful, as well as essential, for platforms that have divided their learners into many groups.
Improvements to the "Scheduled e-Mail Alerts" screen.
Numerous improvements have been made to the screen that allows viewing scheduled e-Mail alerts for an upcoming release, which now becomes more usable and easily understandable.
New feature "Duplicate Learner".
Added the possibility to "duplicate" a learner, i.e., to proceed with the creation of a new learner more quickly and starting from another learner (and therefore with basic information such as group, subgroup, etc. already set).
"Timeline" columns in Excel reports.
Three new columns have been added to the default set of "Training Reports" that show the total duration of a course as per the "Timeline," the duration of completed learning objects/items by the user, and the completion percentage relative to the total duration of the course.
Filters set in the list of scheduled reports.
The "Set Filters" column has been added to the screen that displays the list of "Scheduled Reports" to facilitate recognition and access to modification.
Search fields for checkbox lists of groups/courses.
In the screen that allows creating a new report, and also in other scenarios where the same screen is used (thus e.g., to set the filters of a "Newsletter" or the selection filters of the new "Automatic Registrations" functionality), it is now possible to filter which option boxes should be displayed in the "Groups" or "Courses" boxes. In fact, it is possible to pre-filter groups or courses to facilitate their selection.
Normalized display of scores for advanced tests.
In all possible scenarios (course program visible to learners, timeline, "Funded Training" reports, etc.), the score of "Advanced Test" items is now always displayed in hundredths and as a percentage. Normalized in this way even if the maximum achievable score is different from 100.
Changes to links to certificates.
Changed the way links to certificates in training reports in Excel format are constructed to make their management simpler.
Elearning Courses Creation Extension
Side panel for course publication.
The course publication interface in the
Cour
Store
™
or locally in your LMS (Learning Management System) has been redesigned graphically. The semi-transparent central panel is no longer displayed, and instead, a new right-side panel is used.
Estimated duration for imported learning objects.
The ability to specify the estimated duration for learning objects imported into DynDevice LMS has been added. DynDevice LMS may not automatically retrieve the same value. This way, even learning objects not created with the internal SCORM™ editor can contribute to the calculation of the total course duration and all related estimates.
Disabling mouse hover control in LO editor.
In the SCORM™ editor for learning objects, the option to disable mouse hover control within the player window while watching videos has been added. This control, crucial for impeccable educational rigor in the case of mandatory occupational safety courses, is actually less suitable for courses of a different nature. Hence, the option to exclude it from learning objects dedicated to subjects other than occupational safety has been introduced.
Field to make LO specific to a single course.
The ability to specify, on a course-by-course basis, that the learning objects within them must always be accessed again by the user, in full, regardless of whether they have already been accessed in other educational paths.
Manage Human Resources Extension
New management of medical visit notifications. Similar to "LMS Email Alerts Management," there is now a "HRMS Email Alerts Management" section in this release that allows configuration for each email alert, including whether it is "Active," the subject of the email alert, the HTML and plain text of the alert, and the email sender.

Customization of notification subjects sent by the "ICMS download" module. It is now possible to customize the subject of the email alert (newsletter) sent upon the availability of a new file to all users who can download it.
Customize the Platform Extension
Cache in the "Magazine" module. A caching system for articles has been added to the "Magazine" module, resulting in faster content display and contributing to better SEO scores for the entire website where the module is used.

VAT exemption field for training courses for public administrations. A new dropdown has been added to the "e-Commerce" module to specify, for public entities, whether they are exempt from paying VAT for training courses.

New "Related E-Commerce" module. The module allowing more in-depth customization of the displayed products has been enhanced globally. This includes the ability to include the "last visited products" by the customer during navigation and "related products" to what is being viewed or added to the cart.

Surveys in newsletters. Improved functionality for inserting and managing surveys in newsletters, including the option to make a question mandatory or not. Also, the ability to display one or more questions only based on one or more answers given in other questions (consequential survey).
Completing the changes is the improved usability of various creation and modification interfaces, including the introduction of drag & drop to establish the order of question presentation, etc.

Automatic reminders and post-order gift coupons. In the "e-Commerce" module, the ability to send automatic reminders, such as a reminder to make payment via bank transfer for orders where this payment method is chosen, or a reminder related to the "abandoned cart," has been added. Additionally, the ability to create coupons automatically following a successful order to be made immediately available to buyers, etc.